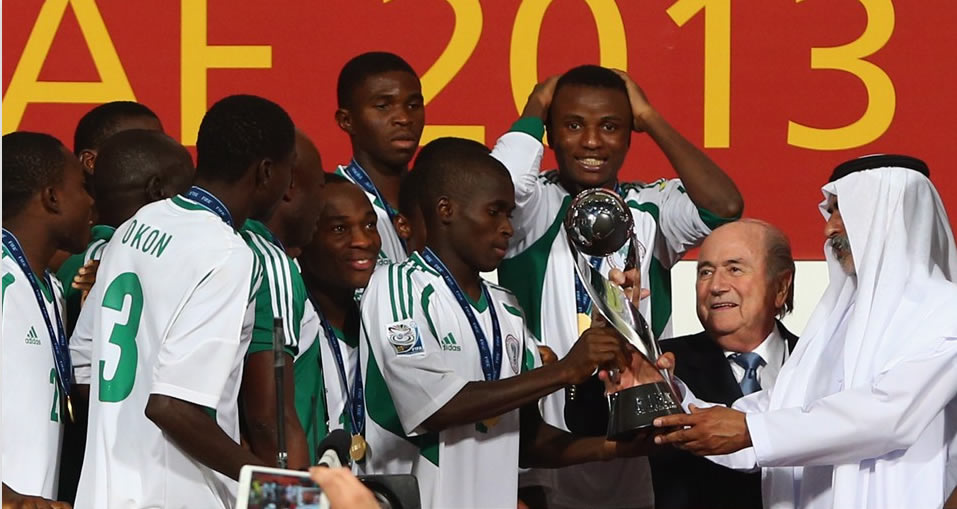 Kelechi Iheanacho of Nigeria (Golden Ball), Ivan Ochoa of Mexico (Bronze Ball), Musa Muhammed of Nigeria (FIFA Fairplay Award), Valmir Berisha of Sweden (Golden Boot) and goalkeeper Dele Alampusa of Nigeria (Golden Glove, L-R) pose with their trophies after the FIFA U-17 World Cup UAE 2013 Final .
………………………………………………………………………………………….
The Nigerian Golden Eaglets yesterday won the Under 17 FIFA world cup in Dubai, UAE.
As I watched the young lads trash Mexico 3-0, I felt so proud of my country, Nigeria.
Sorry Mexico, give us your respect. We are world Champions this year.
When I think about this victory, I can see conspicuous lessons for any business man or entrepreneur to take home.
1. Preparation is Key to Good Public Performance
The majority of these children who played this year's under 17 world cup were picked up from different Football Academy Centers across the country. Unlike the usual Nigerian shoddy preparation in events which usually is our major reason for poor performances, there were good preparations both personally and as a team by these boys.
You'll do better in any cause that you take time to prepare very well for.
2. Keep Your Focus Intact Despite Early Pressures
In the Nigeria –Mexico Final match, it was obvious that the Mexicans were determined  not to bow to the Nigerian eaglets for the second time after they had suffered a 1-6 loss to them earlier on in the game. One could see even from the fiery display of the Mexican coach that they were there for business. Even the statisticians gave them a whopping 54% ball possession.
Yes, the Eaglets faced that determined Mexican team and had all the pressure against them, but they kept their focus intact. No wonder they also won the fair play award.
You see guys, in life; you'll have plenty of pressures, so much so that that you might appear weak in your game, but if you can keep your ultimate focus intact, you'll smile in the end.
3. Consistency will get You Victory
The Nigerian coach, Manu Garba, said it well after the match. Consistency was their key.  What more can I say?
Guys, consistency implies been steadfast and in uniformity with your goals. We all need to be consistent to achieve success in life and business.
4. Celebrate Your Success
The Nigerian Eaglet playmaker, Iheanacho, said it well, " I feel a million things"
Yes boys. That's the way to go.
Celebrate your success, while aiming for more.
Cheers!